Calendula – a flower that is extremely popular with cosmetic believers because of their beauty uses. It is not surprising that this flower is chosen by many famous cosmetic brands as the main ingredient for moisturizing and soothing product sets.
What is Calendula Chrysanthemum?
Calendula officinalis, also known as marigold, is a species of flowering plant native to the Mediterranean region. These bright, sunny flowers and pleasant herbal fragrance have long been used for healing, particularly in wound healing and recovery. Calendula extract is also commonly used in cosmetics for its many benefits in dealing with skin problems, including acne and irritation. As such, you'll often find it in skin care products formulated for sensitive skin, helping to reduce long-term discomfort.
Why is Calendula used in beauty?
Used for centuries as a medicinal plant, Calendula has long been applied to wounds for its ability to heal quickly. Today, Calendula is more widely used as a key ingredient in many skin care products and cosmetics because of its ability to reduce breakouts and reduce skin irritation.
Soothes sensitive, irritated skin
A well-known benefit of Calendula extract is its ability to help reduce irritation, especially for those with already sensitive skin. Calendula is also well known for its anti-inflammatory properties and ability to limit transepidermal water loss, thereby enhancing the skin's defenses against potential irritants.
Rich in natural antioxidants
In terms of skin care, Calendula has the ability to help protect the skin from oxidative stress. Oxidation Stress is a general term to describe the damage that occurs when the skin is exposed to free radicals, or reactive oxygen species. These harmful compounds form after exposure to a stressor, like UV radiation or pollution, and accumulate on the skin. Without timely intervention, free radicals can alter a cell's DNA, eventually leading to damage to essential structural compounds such as collagen and elastin.
And this is why Calendula appeared to solve this problem because this flower is rich in antioxidant compounds, including flavonoids, polyphenols and carotenoids. These antioxidants help neutralize free radicals, limiting the effect they can have on the skin. This means that Calendula helps protect skin from stressors, UV radiation or pollution to help skin function optimally and look flawless and fresh.
lock moisture for skin
Studies show that calendula flower extract contains large amounts of skin-friendly oils. The seeds of this flower play an important role in the skin's natural moisture barrier and the maintenance of an effective skin barrier. Therefore, Calendula can also help optimally lock in moisture for your dry and flaky skin, especially in winter.
Calendula-based facial products
Brand Kiehl's
Calendula Deep Cleansing Foaming Face Wash
Calendula Deep Cleansing Foaming Face Wash deeply cleanses and balances normal and oily skin, while gently removing impurities without stripping skin of essential moisture. In addition, the product soothes redness and irritation on the skin.
Kiehl's Calendula Deep Cleansing Foaming
Calendula Herbal Extract Alcohol-Free Toner
A best-selling product favored by Kiehl's customers since the 1960s, the alcohol-free Calendula Herbal Extract Alcohol-Free toner is formulated with chamomile petal extract, containing five skin-soothing compounds to help reduce skin irritations. Signs of stress on the skin include redness, excess oil production and sensitivity. The mild formula of balancing water is ideal for normal, oily and sensitive skin, leaving skin even toned and feeling gentle on application.
Kiehl's Calendula Herbal Extract Alcohol-Free Toner is a product for oily and normal skin that has been trusted by Kiehl's customers since the 1960s. Hand-picked and hand-picked Chamomile petals are combined with natural ingredients. The other essence is the factor that makes the product better. Not only gentle cleansing, this toner line also helps balance moisture, even skin tone, giving you bright, healthy skin.
Kiehl's Calendula Herbal Extract Alcohol Free Toner.
Calendula Serum-Infused Water Cream
The chamomile essence in the product is formulated with the highest concentration of chamomile extract and hundreds of ultra-fine crushed chamomile petals. The product immediately relieves discomfort and effectively moisturizes the skin. Can be used even for sensitive skin.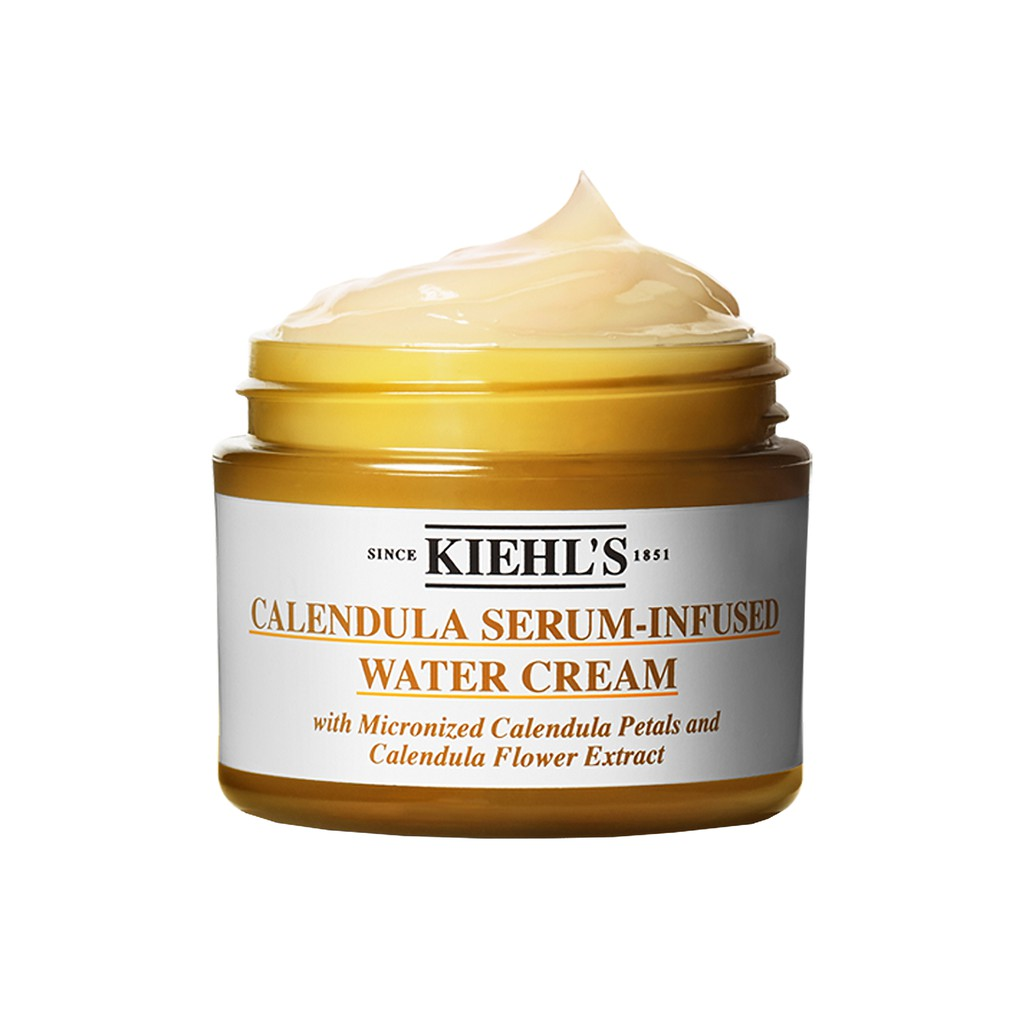 Helps strengthen skin texture, improve dull skin and dry, dehydrated lines; Soothes and reduces skin irritation with regular use.
Kiehl's Calendula Serum-Infused Water Cream
Calendula Petal-Infused Calming Mask
This lightweight gel mask hydrates and refreshes dry, flaky skin. Experience the ultimate cooling sensation from Kiehl's soothing mask. With a combination of chamomile and aloe vera, the moisturizing mask leaves skin feeling soft, smooth and refreshed.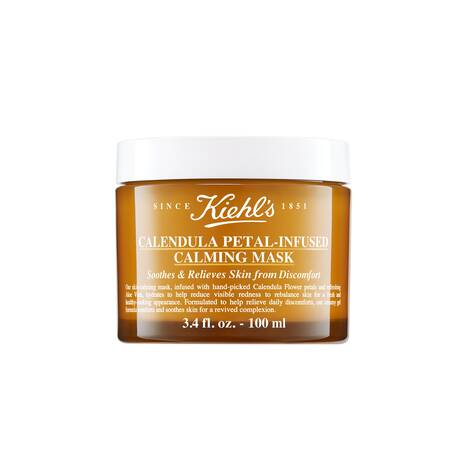 Experience instant skin freshness with this soothing and hydrating mask. The gel mask has a thin and light texture that quickly cools down, for a healthy, radiant appearance.
Kiehl's Calendula Petal-Infused Calming Masque
Brand AprilSkin
Real Calendula Foam Cleanser
A low pH (5.5) moisturizing face wash containing Calendula that soothes skin and clears away daily impurities without feeling tight after cleansing. The micro-foams clean all hard-to-reach dirt like makeup residue, oil and dead cells deep in the pores.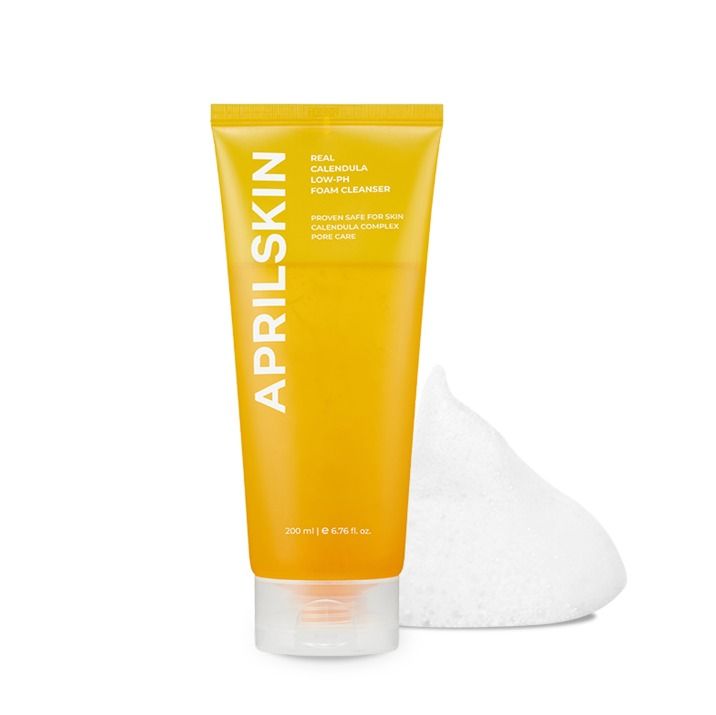 Aprilskin Real Calendula Foam Cleanser 200ml
Real Calendula Deep Essence Mask
A lightweight and smooth sheet mask made with eucalyptus wood fibers containing concentrated Calendula flower extract to soothe and hydrate skin. The deeply hydrating mask also nourishes the skin with antioxidants.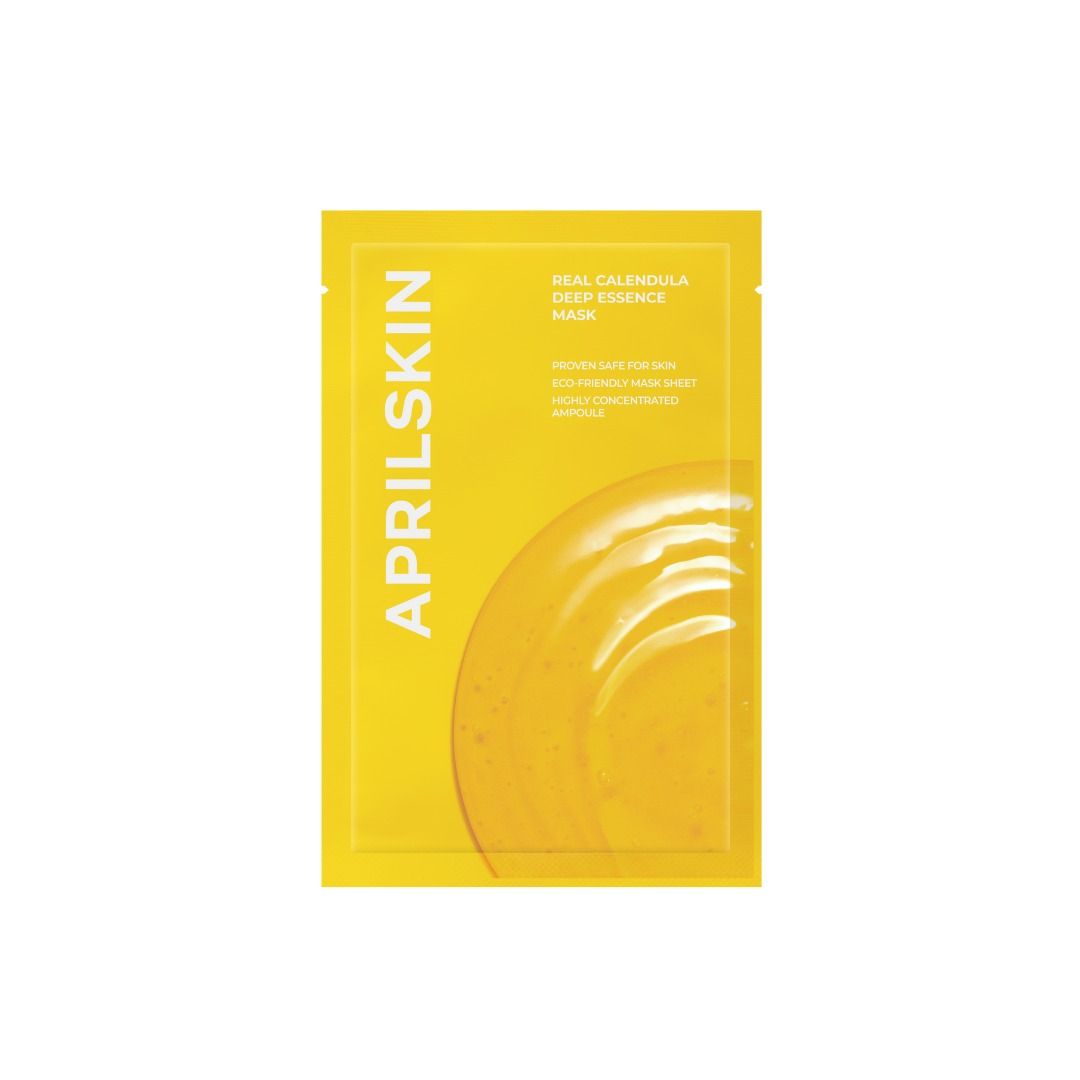 Aprilskin Real Calendula Deep Essence mask 20g
Real Calendula Deep Moisture Essence
After using the products, you can feel them melt into your skin and leave your skin feeling soft and supple. In addition, the product ensures your skin will stay hydrated 24/7 with a complex of 5 Hyaluronic Acids to help moisturize 5 times.
Aprilskin Real Calendula Deep Moisture Essence
Calendula Resurfacing Essence 10% PHA, AHA
The perfect skin care essence, containing 10% PHA and AHA, helps to shrink pores by dissolving sebum that clogs and enlarges pores. You will feel fresh skin with just one use by removing dull, flaky dead skin cells. In addition, this serum helps reduce the appearance of spots, evens skin tone and minimizes fine lines, for a healthier, younger looking skin with a radiant beauty.
Aprilskin Calendula 10% PHA+AHA
Brand Name: Nacific
FRESH HERB ORIGIN SUN BLOCK CALENDULA
Fresh Herb Origin Sun Block Calendula is a benign sunscreen that helps your skin not only fight harmful UV rays, but also helps skin stay soft, increasing its ability to resist signs of aging such as dark spots, freckles. In addition to the excellent sun protection effect, it also has the ability to whiten the skin to keep it soft and bright regardless of time.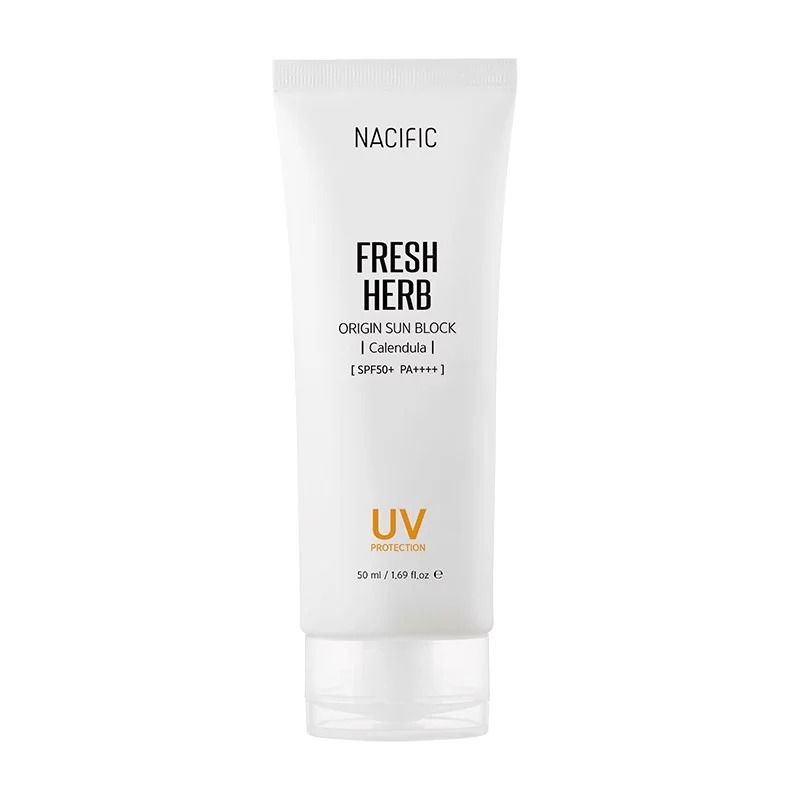 Nacific Fresh Herb Origin Sun Block Calendula Sunscreen 50ml
FRESH HERB ORIGIN EYE CREAM CALENDULA – FRESH HERB ORIGIN EYE CALENDULA
If you find the eye area lacks moisture, has dark circles and crow's feet, then Fresh Herb Origin Eye Cream Calendula is the savior. Containing up to 80% pure water content combined with essential acids for the skin, the eye cream helps to soften the skin around the eyes, increase firmness with instant hydration, reduce dark circles. eye.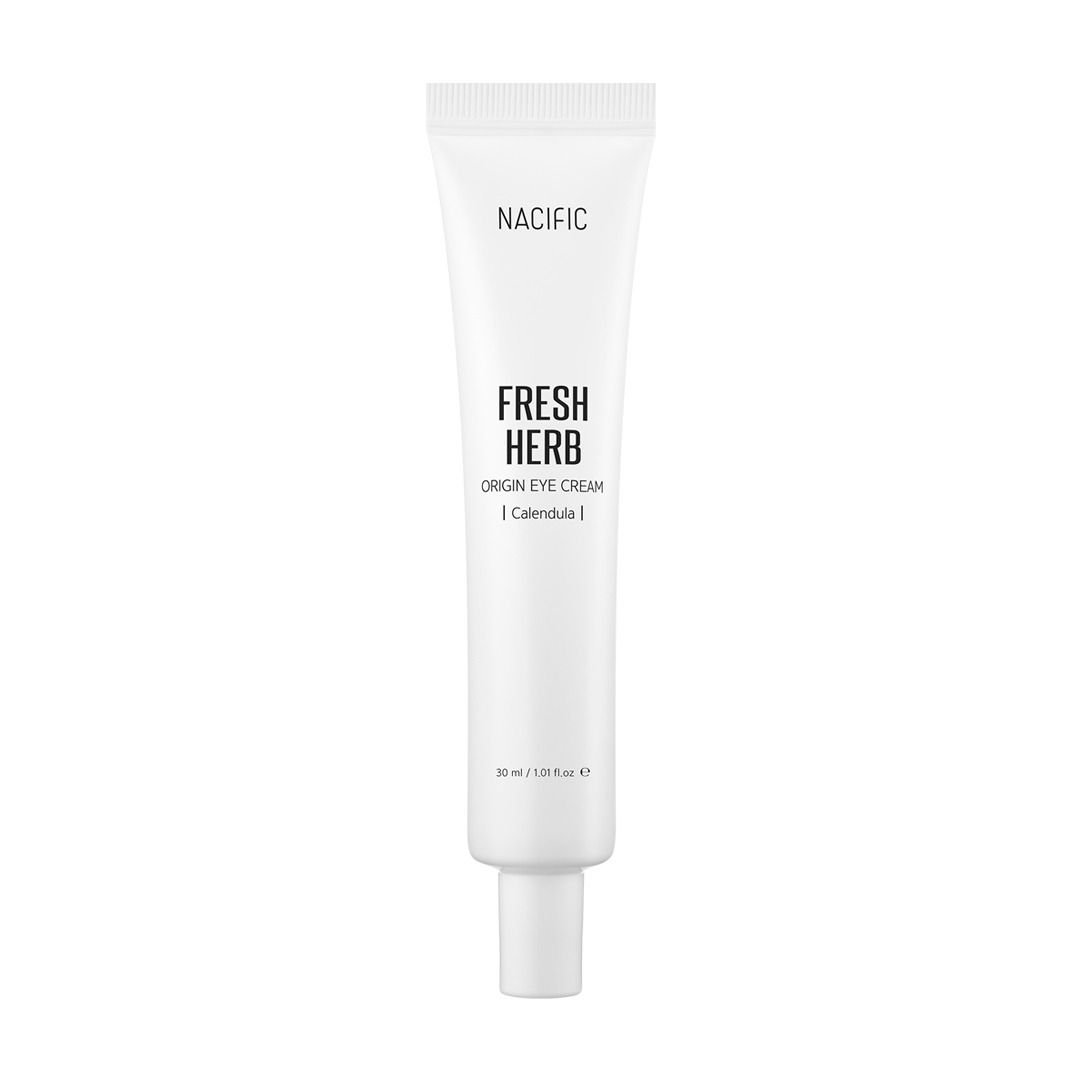 Nacific Fresh Herb Origin Eye Cream Calendula 30ml
REAL FLORAL AIR CREAM CALENDULA – REAL FLORAL AIR CREAM
Whitening cream, freckle treatment with 100% water extracts from white chrysanthemum flower, dandelion flower, 5% Niacinamide to help brighten and smooth skin. In addition, the ingredients in the product have the ability to protect the skin and help prevent and control the growth and formation of melanin pigment, preventing them from multiplying so as not to cause melasma to return.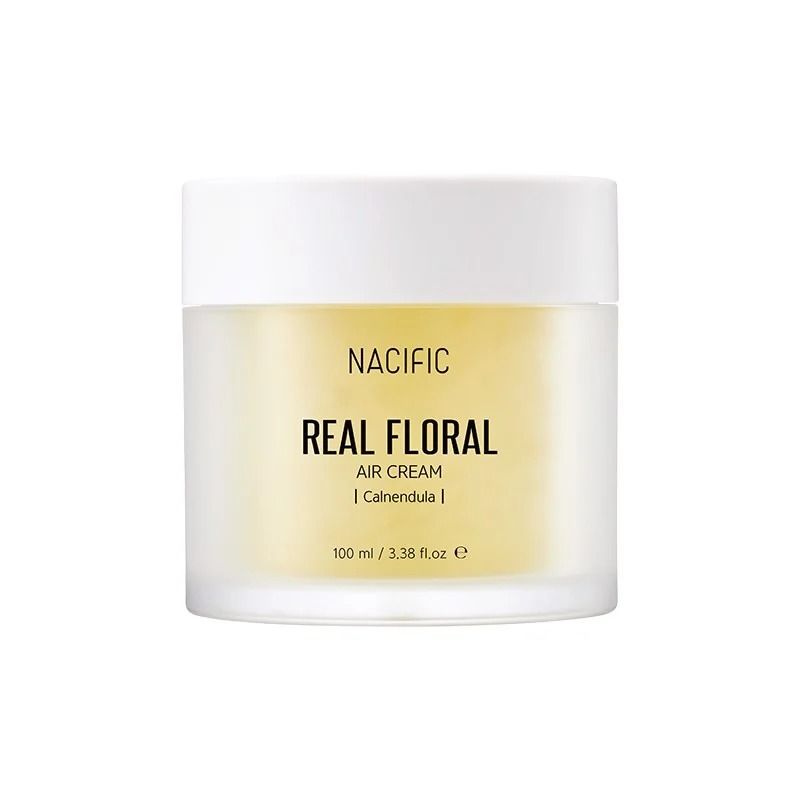 Nacific Real Floral Air Cream Calendula 100ml
REAL FLORAL TONER CALENDULA . REAL FLORAL TONER CALENDULA
The balanced water composition contains up to 91% chrysanthemum water including flavonoid, adenine, choline, stachydrin essences, etc. to help protect the skin from environmental influences, against ultraviolet rays. In addition, vitamins A, E and minerals in the product also have moisturizing effects, preventing premature aging of the skin.